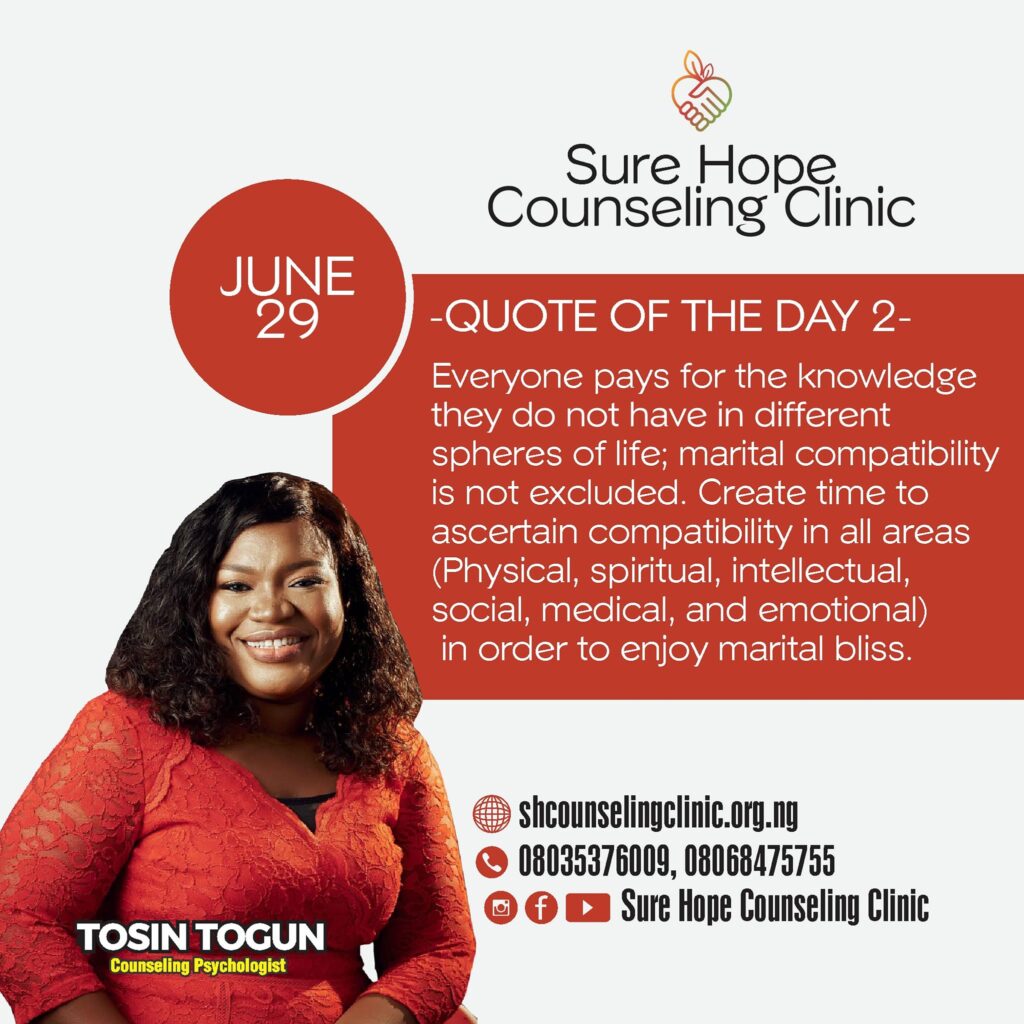 Welcome to the end of the quarter. This month, we looked into one of the things courtship should achieve, which is compatibility. In order to enjoy a blissful marriage, singles need to maximize the period of courtship to ascertain compatibility in marriage. Marital compatibility is the alignment of characteristics or factors that make living together enjoyable for marital purpose.
Two cannot work together unless they agree; this scripture can be said as two cannot walk together unless they are compatible. This means that the level to which a couple agrees is the degree to which they are compatible.
Agreement =Compatibility. In the course of the month, six types of compatibility was discussed. Today, I will be summarizing three aspects of compatibility to pay attention to before saying I DO.
✓ Physical compatibility: It is important that marital partners take time to identify the features that fuel their attraction towards their partner and enhance their response to love in a marital relationship. As said during the month, the basis for marital compatibility is that the marital partner has basic or essential factors that make courtship enjoyable. This is the alignment of physical characteristics, such as age, skin color, body shape, height, weight, and size; the shape of the face (round, oval, or oblong); the size of the breasts and buttocks; the color and shape of the lips; and many others. Of a truth, the Holy Spirit is with us every time, but it is essential to know that the physical partner you live with within the house is a man or woman with flesh and blood. Hence, the biological attraction between the both of you is important in aiding or enhancing your sexual relationship as married couples. Physical compatibility enhances; public display of affection, long and lasting foreplay, fulfilling sexual intimacy
✓Spiritual Compatibility: Spiritual compatibility entails that you and your spouse choose the same route to God i.e. have a common religion, share the same measure of understanding about the religion, invest the same level of energy into its practice, and have the same level of commitment to the culture of your religion and God. This is because marriage is a YOKE. It does not mean you belong to the same denomination as singles; it means married couples must go to the same church. The benefits of spiritual compatibility are: synergy on every side; understanding of one another, high productivity; security and progress; emotional stability; and good parenting.
✓ Intellectual Compatibility: This means the ability of marital partners to place the right value and worth on one another's intellectual opinions and be able to engage in thoughtful and meaningful discussion with mutual respect for one another. Intellectual abuse creates an emotional gap; hence, in order to prevent intellectual abuse, you have to be sure that your opinion, voice, and achievements matter to your intended spouse before you say I do, as intellectual abuse can graduate to other forms of abuse. Indications of intellectual incompatibility are, a wide age gap, wide academic gap, a wide disparity in social class, and a wide disparity in financial productivity.
Men are in sizes, if your esteem is not healthy enough to mingle with a man or a woman who is higher than you educationally, socially or financially, please don't force it.
ACTION POINT
Are you creating time to ascertain compatibility between your spouse and yourself? If not, why not?
#love#singles#married#courtship#family#relationship#coach#tosintogun#surehopecounselingclinic#compatibility#medical