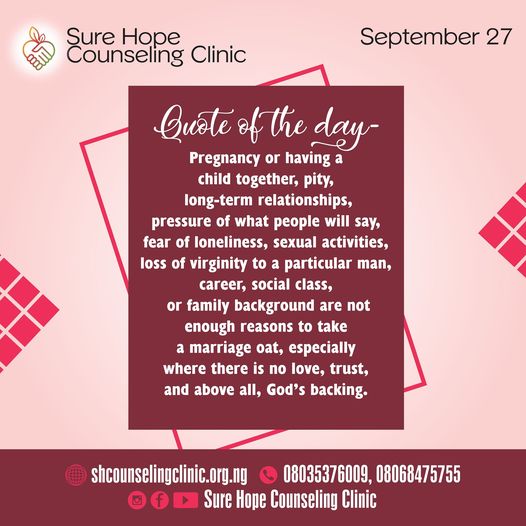 Many people go into a marital relationship for the wrong reasons—some for pleasure, others for one gain or another, while others just want to quickly occupy the emptiness they have in them as a result of previous broken marital engagements. For no reason other than genuine conviction through a consistent relationship with God, unweaving love and trust is worth a marriage covenant.
I met several young men and ladies who said they would not have tied the knot with their marital partner if not because they had a child together. I stand to tell you that pregnancy, having a child together, pity, long-term relationships, pressure of what people will say, fear of loneliness, sexual activities, loss of virginity to a particular man, career, social class, or family background are not enough reasons to take a marriage oat, especially where there is no love, trust, and above all, God's backing; for God is love, and where there is no love, commitment cannot take root as expected.
FOOD FOR THOUGHT
Why are you in your marital relationship?
#love#singles#married#courtship#family#relationship#coach#tosintogun#surehopecounselingclinic#commitment