Three weeks session on puberty and sexuality management was impactful. It is important for teenagers to understand their developmental stage, why they respond the way they do.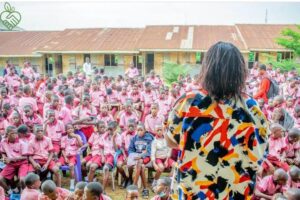 It is also important to inform them that sexual feelings is normal in human beings but can be expressed wrongly and at the wrong time; hence, they need to know how to manage their sexuality till the right time which is when they are married.
Students were also enlightened on the wrong ways many express their sexual feelings and the dangers attached to them. Then, they learnt about the hormones responsible for their development as a male and female; emphasizing that nothing external is responsible in order for them to shun puberty myths. Finally, they learnt ways to manage their sexuality a a male and female.
After the session, a copy of puberty and sexuality management book was given to 200 students. We appreciate our sponsors for making it possible for the children to have a copy of puberty and sexuality management