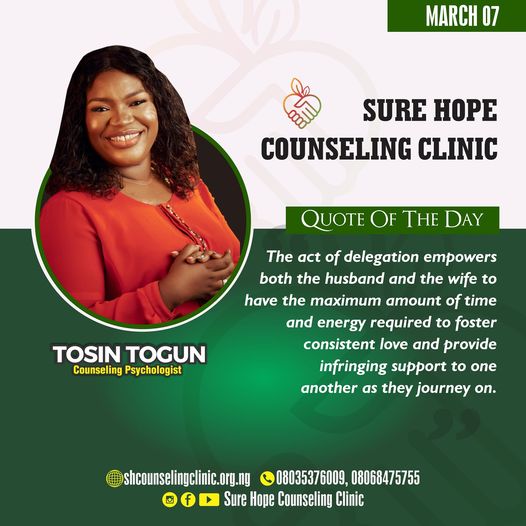 Yesterday, we were introduced to what the Jethro therapy is; it was said to be the act of delegating responsibilities and authorities to the trained and trusted subordinates. The act of delegation is one of the best strategies known to be effective for stress management. But only few people know how to engage it. Therefore, today's session will be offering exposition on how to maximize the Jethro's therapy by learning the principle of delegation as it applies to stress management so as easily resolve the conflict associated with it such as reduced libido.
Effective delegation strategies will require the following;
 Task subject
 Task objectives or expectations
 Task feedback
 Task evaluation
 Task re-delegation (optional) However, it is important that the delegates are trained, trusted and followed-up for effective delivery, this way both husband and wife can have maximum time and energy required to foster consistent support to one another and bound sexually.
ACTION- POINTS
Are you spending enough time with your spouse? If not state your reasons and employ delegation of task where necessary.