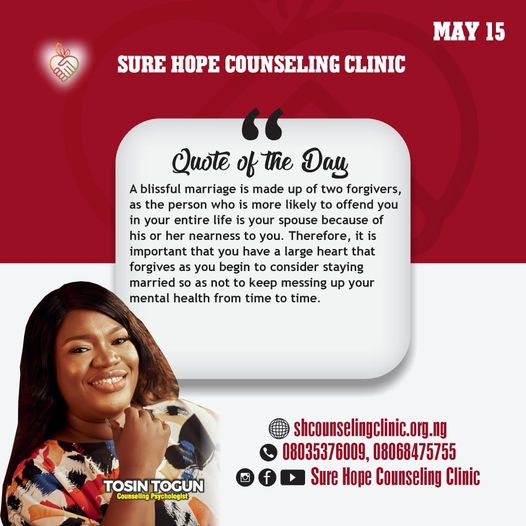 The heart of yesterday's teaching was centered on acceptance as the mother of romance, as it was said that where there is no total acceptance, resentment is inevitable. Another element of commitment in view today is forgiveness. Months back, we admitted a client to Sure Hope Counseling Clinic who has a diary that contains the details of her spouse's offenses, starting from the period of their courtship up to the point that they showed up at our clinic.
According to the Greater Good Science Center, psychologists generally define forgiveness as a conscious and deliberate decision to release feelings of resentment or vengeance towards a person or group who has harmed you, regardless of whether they actually deserve your forgiveness or not. Meaning that forgiveness is not a talent but a choice that comes with the responsibility of being in a marital relationship, as a blissful marriage is made up of two continuous forgivers. This is because each party that makes up a blissful marriage is not perfect.
Hence, the person who is more likely to offend you in your entire life is your spouse, because he or she is the closest person to you at every point in time. Therefore, if you cannot forgive, it is important that you stay single so as not to keep messing up your mental health time in and time out.
ACTION POINT
Is there an offense you find so difficult to forgive your spouse, reach out if you need help?
#love#marriage#partner#singles#married#marriage#mentalhealth#parenting#tosintogun#surehopecounselingclinic