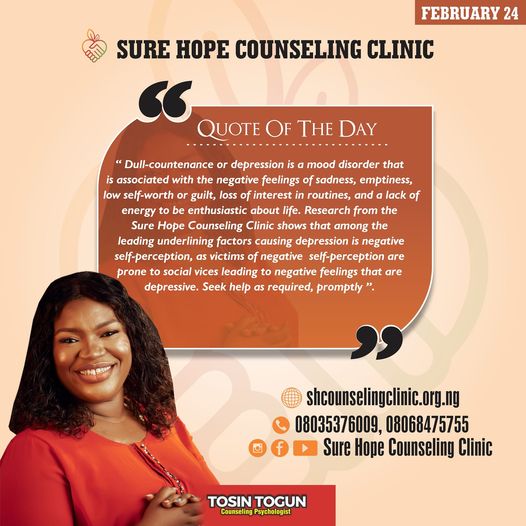 Dull countenance or depression is a mood disorder that is associated with the feeling of sadness, emptiness, low self-worth, guilt, loss of interest in routines and lack of energy to be enthusiastic about life.
According to world health organization (WHO), depression is a common illness world-wide with an estimated 3.8% of the population affected, including 5.0% among adults and 5.7% among adults older than 60years. It is a common disorder, and a leading cause of disabilities as a major contributor to the overall global burden of disease.
Research from the Sure Hope Counseling Clinic shows that among the leading under-line factors causing depression is negative self-perception as victims of negative self-perception are prone to vices such as unhealthy competition or rivalry, envy or jealousy, crime, scandal and so on, which may further make them to indulge in self-injurious behavior that is capable of infringing negative feeling such as guilt, shame, worthlessness, hatred, ingratitude and so on all of which are the breeding ground for depression.
Are you depressed? Identify the causes and seek help as required, promptly.